ASUS P5E Intel X38 - DDR2 1200/FSB 1600 + BACKPANEL
Λήγει σε:
Η καταχώρηση έχει λήξει!
Τελική τιμή:
59€
Αρχική τιμή: 59€
Τύπος καταχώρησης: ΔΗΜΟΠΡΑΣΙΑ
Γνώρισε τον πωλητή:
Είμαι πιστοποιημένο μέλος
Τοποθεσία και αποστολή
Τοποθεσία πωλητή:
Athens - Δεν έχει δηλωθεί νομός
Όροι αποστολής:
Επιβαρύνουν τον αγοραστή
Έξοδα αποστολής:
Δεν έχουν οριστεί από τον πωλητή
Τρόποι πληρωμής:
Courier | Αντικαταβολή | ΕΛΤΑ | ΕΛΤΑ Αντικαταβολή | Κατάθεση σε τράπεζα | Μετρητά | Παραλαβή | Χέρι με χέρι / Συνάντηση |
Η δημοπρασία ξεκίνησε:
11/03/2011 - 16:25
Έληξε στις:
15/03/2011 - 16:25
ID:
32244723
Κατάσταση:
Μεταχειρισμένο
Περιγραφή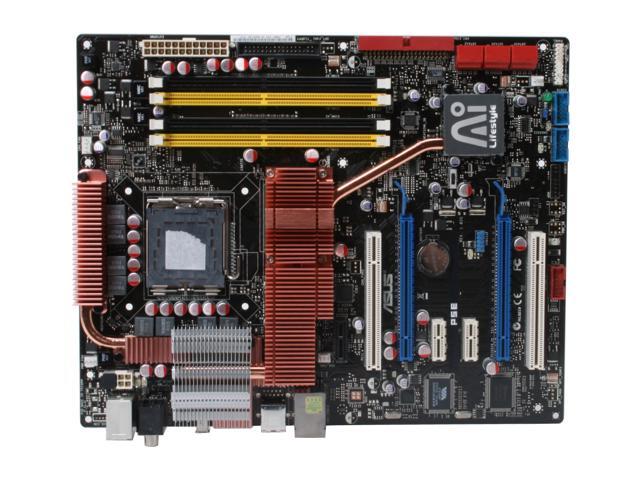 Specifications
CPU
Intel® Socket 775 Core™2 Quad/Core™2 Extreme/Core™2 Duo/Pentium® Extreme/Pentium® D/Pentium® 4 Compatible with Intel® 05B/05A/06 processors
Support Intel® 45nm CPU

Chipset
Intel® X38 Intel ICH9R Intel Fast Memory Access Technology

Front Side Bus
1600/1333/1066/800 MHz
Memory
4 x DIMM, Max. 8 GB, DDR2 1200*/1066/800/667 Non-ECC,Un-buffered Memory
Dual Channel memory architecture
*DDR2 1200 is O.C. speed
**For the X.M.P. support, CPUs with FSB 1333 or above are recommended.
***Refer to www.asus.com or this user manual for the Memory QVL(Qualified Vendors Lidts).
****When installing total memory of 4GB capacity or more, Windows 32-bit operation system may only recognize less than 3GB. Hence, a total installed memory of less than 3GB is recommended.
Expansion Slots
2 x PCIe x16 (both @ x16 mode) supports CrossFire Technology
3 x PCIe x1
2 x PCI

Storage
Southbridge
1 xUltraDMA
6 xSATA 3 Gb/s ports
Support RAID 0,1,5,10
JMicron® PATA and SATA controller
1 xUltraDMA 133/100/66 up to 2 PATA devices

LAN
Marvell88E8056® PCIe Gigabit LAN controller featuring AI NET2

Audio
SupremeFX II Audio Card
ADI® AD1988B 8-Channel High Definition Audio CODEC
Coaxial / Optical S/PDIF out ports
ASUS Noise Filter
Support Jack-Sensing, Enumeration, Multi-streaming
AI Audio 2

IEEE 1394
VIA VT6308P controller supports 2 x 1394a port(s) (one at midboard; one at back panel)
USB
12 USB 2.0/1.1 ports (6 ports at mid-board, 6ports at back panel)

ASUS Unique Features
ASUS Power Saving Solution
- ASUS EPU (Energy Processing Unit)
- ASUS 3rd Generation 8-phase Power
- ASUS AI Nap
ASUS AI Lifestyle
- ASUS AI Direct Link
ASUS Quiet Thermal Solution
- ASUS Fanless Design: Pure Copper Heat-pipe solution
- ASUS Fanless Design: Stack Cool 2
- ASUS Q-Fan 2
- ASUS Optional Fan for Water-cooling or Passive-Cooling only

ASUS EZ DIY
- ASUS Q-Connector
- ASUS Q-Shield
- ASUS O.C. Profile
- ASUS CrashFree BIOS 3
- ASUS EZ Flash 2

Special Features
Multi-language BIOS
ASUS MyLogo 3

Overclocking Features
Intelligent overclocking tools
- ASUS AI Booster Utility
- 2-Phase DDR2
Precision Tweaker 2
- vCore: Adjustable CPU voltage at 0.00625V increment
- vChipset (N.B.) 25-step voltage control
- vFSB Termination: 15-step voltage control
- vCPU PLL: 64-step voltage control
SFS (Stepless Frequency Selection)
- FSB tuning from 200MHz up to 800MHz at 1MHz increment
- Memory tuning from 667MHz up to 3200MHz
- PCI Express frequency tuning from 100MHz up to 150MHz at 1MHz increment
Overclocking Protection
- ASUS C.P.R.(CPU Parameter Recall)

Back Panel I/O Ports
1 x PS/2 Keyboard
1 x S/PDIF Out
1 x IEEE 1394a
1 x LAN(RJ45) port
6 x USB 2.0/1.1
8 -Channel Audio I/O

Internal I/O Connectors
3 x USB connectors
1 x Floppy disk drive connector
1 x IDE connector
6 x SATA connectors
1 x IEEE 1394a connector
2 x Chassis Fan connector
1 x Power Fan connector
1 x S/PDIF Out connector
2 x 4-pin ATX 12V Power connector
24-pin Power connector
Front panel audio connector
Chassis Intrusion connector
CD/AUX audio in
System Panel

BIOS
16 Mb Flash ROM Multi-language BIOS
DMI 2.0
AMI BIOS
PnP
WfM 2.0
SM BIOS 2.3
ACPI 2.0a
ASUS EZ Flash 2
ASUS CrashFree BIOS 3
Manageability
WfM 2.0,DMI 2.0,WOL by PME,WOR by PME,PXE
http://www.asus.com/Product.aspx?P_ID=cPrufUGXUlY9OsYv
ARISTH MHTRIKI ME TO TELEYTAIO BIOS UPDATE + BACKPANEL KAINOYRGIO XWRIS ALLA PARELKOMENA.