ThermalTake Toughpower 1500W W0171 140mm 16dBA Fan Modular Cables 8PinX4 Nvidia 3-way SLI Ready PSU
Λήγει σε:
Η καταχώρηση έχει λήξει!
Τελική τιμή:
155€
Αρχική τιμή: 1€
Τύπος καταχώρησης: ΔΗΜΟΠΡΑΣΙΑ
Γνώρισε τον πωλητή:
Είμαι πιστοποιημένο μέλος
Τοποθεσία και αποστολή
Τοποθεσία πωλητή:
Ηρακλειο - Ηρακλειο
Όροι αποστολής:
Επιβαρύνουν τον αγοραστή
Έξοδα αποστολής:
Δεν έχουν οριστεί από τον πωλητή
Τρόποι πληρωμής:
Courier | Αντικαταβολή | Αντικαταβολή με Courier | ΕΛΤΑ | ΕΛΤΑ Αντικαταβολή | Κατάθεση σε τράπεζα | Μετρητά | Παραλαβή | Χέρι με χέρι / Συνάντηση |
Η δημοπρασία ξεκίνησε:
03/08/2009 - 10:24
Έληξε στις:
10/08/2009 - 10:24
ID:
17401894
Κατάσταση:
Μεταχειρισμένο
Περιγραφή
Για να επικοινωνήστε μαζί μου χρησιμοποιήστε το επικοινωνιακό κανάλι του emarket To τροφοδοτικό αγοράστηκε για την υλοποίηση ενός νέου υπολογιστικού συστημάτος που τελικά εγκαταλήφθηκε για την αγορά φορητού σηστήματος. Έχει ελάχιστη χρήση και είναι σε άριστη κατάσταση. Για να δείτε τα πλήρη τεχνικά χαρακτηριστικά τoυ τροφοδοτικού πατήστε στον παρακάτω υπερσύνδεσμo Product Specification To τροφοδοτικό πωλείται 231.90 εύρω στο Εshop Για να δείτε μια επιπλέον κριτική τoυ τροφοδοτικού πατήστε στον παρακάτω υπερσύνδεσμo Thermaltake Toughpower 1500w Review Τα έξοδα αποστολής ανέρχονται στα 7.8 ευρώ (ΕΛΤΑ,αντικαταβολή). Μπορείτε να δείτε τις υπόλοιπες ενεργές δημοπρασίες μου εδώ Καλή επιτυχία.
ThermalTake Toughpower 1500W W1071 PSU - Bit Tech Net Review
Manufacturer: Thermaltake
UK Price (as reviewed): £179.78 (inc. VAT)

There will always be those who want or need the extreme end of things and for that Thermaltake has them catered for with a full one thousand five hundred watts of power to keep them happy. Let's be clear now: the average user doesn't need this much power, but this PSU isn't specced to be average – it's the most powerful unit that Thermaltake currently offers.

When we came to review 3-way SLI the first time, it was the only PSU we had that provided the necessary six PCI-Express connectors; Nvidia only certifies 1,100W and above suitable for 3-way SLI, with the only current exception being the Corsair HX1000W.

It's not inexpensive by any means but it does make for a considerable investment if you want to build the u-l-t-i-m-a-t-e PC. Don't poo-poo it because it's TT either – the spec sheet reads as a considerable eye opener (120A of 12V power) and reading between the lines it still sounds good – it's rated at 1,500W at 50˚C operation, rather than the 40˚C or 25˚C that some manufacturers use, and it focuses on using industrial grade components for quality rather than the usual "so silent you'd think you're deaf" many other PSUs try to push.

Does Thermaltake provide a very capable PSU worthy of supplying 1,500W should you need it? We put it through its pace to find out.


Features
Intel ATX 12V 2.3 and EPS 2.91 compatible

Stable 1500W continuous output, peak power at 1600W (at 50℃ operating environment)

Four 8-pin and four 6-pin PCI-E connectors design supports multiple high-end graphics card setup

Supports Nvidia SLI & 3-Way SLI (in particular) and all other Multi GPU technologies

Four independent +12V rails (Total Combined load of +12V is 120A)

Modularised Cable Management system designed to eliminate clutter and improve airflow inside the case

Active Power Factor Correction (PF>0.99) and high efficiency (up to 87 percent).

Industrial grade components (capacitor, transformer, etc)

High reliability: MTBF>120,000 hours

Quiet and reliable 14cm ball-bearing fan

Over Current, Over Voltage, Under Voltage, Over Temperature, Over Power and Short-Circuit protections

Safety / EMI Approvals: CE, CB, TUV, FCC, UL, CUL, and BSMI certification
Warranty
Thermaltake provides a five year warranty with its products and even offers an "advanced RMA service" if you report a faulty unit within 10 days of purchasing, although it's not specified what exactly this entails. Five years keeps it in line with Cooler Master, Corsair and some OCZ models, for example and it's longer than what Antec, Enermax and Tagan offer, yet not quite as good as PC Power and Cooling's seven year on its Max-Performance Turbo Cool PSUs. Check here but not here for more details.


Package
As you'd expect, this 1,500W power supply comes in one big ass heavy box. The PSU is packed between two thick pieces of foam and bubble wrap to keep it safe, while on top sits a comprehensive manual. Nestled down the side is a wallet full of the extra modular cables so you've got somewhere to keep the parts you don't use, safe.
External Looks
As is standard for Thermaltake Toughpower PSUs, the 1,500W also gets the hardwearing metallic grey finish and the huge sticker on the side that we really don't like – it's indiscrete, tacky and reeks of marketing gone mad. And what's more, it'll be the first thing you see in any pictures of someone's case when they take the side off.

While the fan grill is stamped out instead of a grill so it looks pretty good in being different, the obvious branding permeates further in the centre of the fan and embossed into the metal besides it. The 14cm fan is made by Taiwanese manufacturer Yate Loon and spans the width of the PSU; you can buy a similar one here for very little money.

Model: Yate Loon D14BH-12

Size (mm): 140x140x25

Bearing: Ball

Speed (RPM): 2800

Airflow (CFM): 140.0

Noise (dBA): 48.5
Why is the fan important? As the only moving part it's the most prone to failure and hence largely dictates the unit's MTBF. They supply many major PC component manufacturers, most notably Delta and Foxconn, so we've no reason to doubt this isn't a quality pick.



Despite the fact the Toughpower 1,500W is almost as long as the Enermax Galaxy—20.5cm x 8.5cm x 15cm, 1.5cm smaller—there is only the single fan to cool everything inside. In contrast, Enermax's unit is one third less powerful, yet feels the need for an additional 80mm fan on top of the 13.5cm in the roof to help improve the airflow. We've been told by more than one manufacturer, that while unpopular, the 80mm at the front and back, like PC Power and Cooling insists on using, provides far better thermal management than a central fan above everything pushing air downwards.



Facing inside towards the case the modular connectors are extremely well labelled and arranged so that the clips face outwards from each other so you can easily get to them. This is something that has annoyed us before from a few other manufacturers, Seasonic notably, who orientate the clip between two connectors. This is fine if you've got nails or fingers like needles.
Supplied Connectors
Hardwired Cables:
One 50cm 20+4-pin ATX cable

One 55cm 4+4-pin EPS12V cable

One 55cm 8-pin EPS12V cable

One PCI-Express cable with an 8-pin and 6-pin connector at 50cm and 65cm respectively

Modular Cables:

Three 50cm 6-pin PCI-Express cables

Three 50cm 8-pin PCI-Express cables

Two SATA power cables with four connectors at 50cm, 65cm, 80cm and 95cm respectively

Two Molex power cables with four connectors at 50cm, 65cm, 80cm and 95cm respectively with a floppy power connector at 110cm.

Three 20cm 8-pin to 6-pin PCI-Express adapters
In theory you could support
four
graphics cards that require both 8-pin and 6-pin power so if Foxconn ever releases its Ultra ATX Quantum Force boards, this PSU will be ready for it. If it wasn't clear enough already that Thermaltake is seriously weighting this on the graphics side of things (it's ever present at LAN parties and in the gaming sector) it's no wonder that all these modular cables feature ferrite cores to reduce cross-interference.
In this respect, even though compared to Enermax's support for eighteen SATA drives on its 1,000W Galaxy, the eight on the 1,500W Thermaltake looks a little glum, we can almost forgive it. After all, eighteen is, let's say, quite
excessive
. All Molex, SATA and floppy power connectors are coloured black to match the cables, and the Molex connectors even get push-release functionality, which is always useful.
As you'd expect, Thermaltake caters to Skulltrail and other dual processor workstation boards that require two 8-pin EPS 12V connectors, although they're both hardwired into the PSU – so most people will be left with one cable dangling about. There's another odd cable too: the solid 8-pin PCI-Express connector has a 6-pin waggling off the end about like a tail: this is not exactly the best approach, ganging one high power connector to the other.
While this unit needed to be modular otherwise you'd have cables coming out of every orifice; all you'd need is a Japanese schoolgirl and you'd have the plotline to many Anime, it disappoints us that all the cables are the same length – there's no choice for best fit. In addition, we can't understand why Thermaltake insisted on deliberately blocking off the PCI-Express 8-pin connectors, forcing the use of ugly and unnecessarily long 8- to 6-pin adapters. Surely a simple 6+2-pin would be far neater?
The braiding itself quite high quality and tight fitting, and Thermaltake has uses glue instead of zip ties to hold the heatshrink on the ends – zip ties compress the cables and make them heat up more under heavy use. This results in higher resistance and poorer voltages or inefficiency, but the effect is dependent on the quality of cable used though.
Sadly, Thermaltake doesn't take the braid right into the PSU and instead it's tied off on the outside making it look ugly. Just like the Toughpower Q-Fan 650W, Thermaltake's cable choice is less than perfect and while it works, there are some strange choices in its design.
Insides
All the Toughpower PSUs from 1kW and up (along with a few below like the 650W Q-Fan) are made by Channel Well Technology, or CWT. The company is very well known for making quality PSUs and while the Thermaltake is a repacking of an in-house CWT design, that's not to be sniffed at.

I'm sure as a side business CWT pack sardines into cans or organise clowns in cars because this PSU is ram-packed to the gills with heatsinks and the occasional electrical component that noses its head above the ripples.

The design is so space sensitive that the heatsinks are purposely shaped to fit specifically in the tight space. Thankfully the components are also very well adhered with very little play as one component shouldn't touch another with a 10N force.

The airflow isn't all that wonderful though – while the heatsink fins and the vertical PCBs line up to direct the air out towards the vents, there are large components dotted about that will limit the flow. The only vents are the large honeycombed one at the back and a few grills underneath the modular sockets.



The PSU is essentially two units in one, except one handles 5V and one handles 3.3V and they both club together to give four 12V rails. You can see it split right down the middle where either side there are two transformers, two large PFC capacitors and two sets of PFC circuitry.



Thermaltake advertises this unit as using industrial grade components, and while we could see a few solid aluminium capped capacitors nestled in the middle, it also uses high grade 105˚C Japanese KZG capacitors in parts. In truth, without desoldering them, everything is too tightly packed to see. The larger capacitors are a usual 85˚C, and while directly cooled by the fan above, are also entirely surrounded by heatsinks.

To couple the high power ethos, a separate PCB supplying the three amps of 5V standby voltage is also included – Hiper includes a similar sort of thing but also a USB hub built directly into the PSU itself. This means "up to 12" USB devices can be charged and powered while the PC is off – good for fast charging iPods and phones, even if it does stress the battery.
'); // ]]> -->
Testing Procedure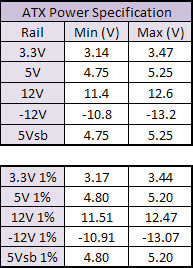 We test our power supplies under artificial load conditions and using in-house calculated load levels to check a PSU does what it says on the tin.
While the industry is clearly geared to "real world" testing scenarios, in this situation anything we throw at it should be at most equally stressful in the real world.
The recorded results on the test machine are also manually verified with a multi-meter to check there is no voltage drop between the PSU connector and the load machine to ensure accuracy.
80 Plus Program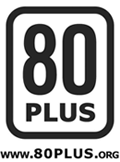 The
80 plus program
is an independent certification that PSU manufacturers are now going after in order to fully ratify their products as capable of 80+ percent efficiency at 20, 50 and 100 percent loads and PFC of over 90 percent. It's an electric utility-funded incentive programme to force companies to make more efficient products as wattages spiral ever upwards, in order to save the consumer as much money as possible.
Traditionally people have looked for the Energy Star rating, of which 90 percent of computers on the market currently adhere to, but this was last revised in July 2000, which is somewhere in the region of a millennia in computer years. An updated Energy Star specification (version 4.0) came into effect from July 20th, 2007 and includes the 80 Plus programme's requirements.
In this way even a small increase in efficiency can save quite a considerable amount of money (and the environment) in the long term.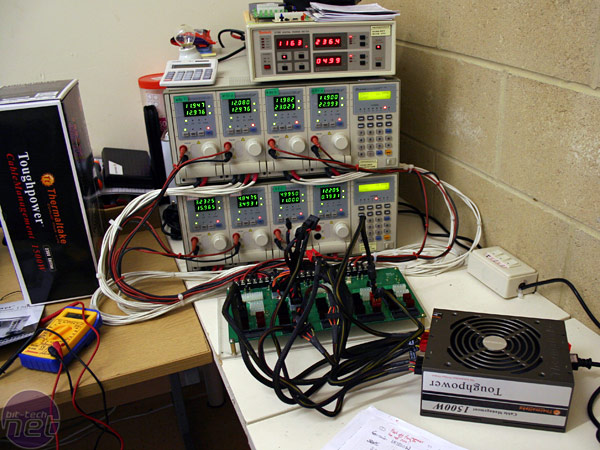 Results
The rail weighting by Thermaltake works very well – 12V1 is dedicated to the ATX and SATA/Molex connectors, 12V2 is dedicated to the 4+4 and 8-pin CPU plugs and 12V3 and 12V4 are dedicated to PCI-Express. The 12V3 and 12V4 also offer twice the power of 12V1 and 12V2 as well, and between all four they can supply 1,440W out of the rated 1,500W!

At 750W load the unit was cool to touch all over and ran very quietly, but when this was raised to 1,000W there was a lot more airflow but the PSU was still reasonably quiet. By now the sides were getting warm while the base and exhaust air were hot to the touch.

Thermaltake claims its PSU is good enough to run at 50˚C at the full 1,500W, yet only rates the 120k hours MTBF at 25˚C. The fact is we didn't even need to stretch to the full 1,500W because the unit got so hot at between 1,100W and 1,350W in open air (~20˚C) that we couldn't hold it or even touch some parts of the base. There was a particularly bad hotspot right under the modular connectors where there's very little escape for the hot air. We recognise that power supplies get warm after extended sessions under full load, but it shouldn't get so hot it hurts.

To make it worse, the unit doesn't feature any kind of facility to keep the fan on after the PC is powered down like the Enermax Infiniti's CoolGuard for example – this means the heat remains in the PSU rather than being exhausted. The more powerful Galaxy DXX series doesn't feature this though.

Despite the hot spots the PSU kept running just fine – in fact unfortunately the equipment's 300W per channel limited us from fully testing it. The efficiency and PFC are both very high in all tests, topping out at just over 86 percent efficiency and not dipping under 98.5 percent PFC the entire time. We were extremely sceptical about the "up to 87 percent efficiency" claim on the Thermaltake website but it is genuinely true.

While all the voltages are green in the results below, we just simply can't recommend this – after all it'll be a part of case brimming with hardware churning out a significant proportion of that 1,500W as heat.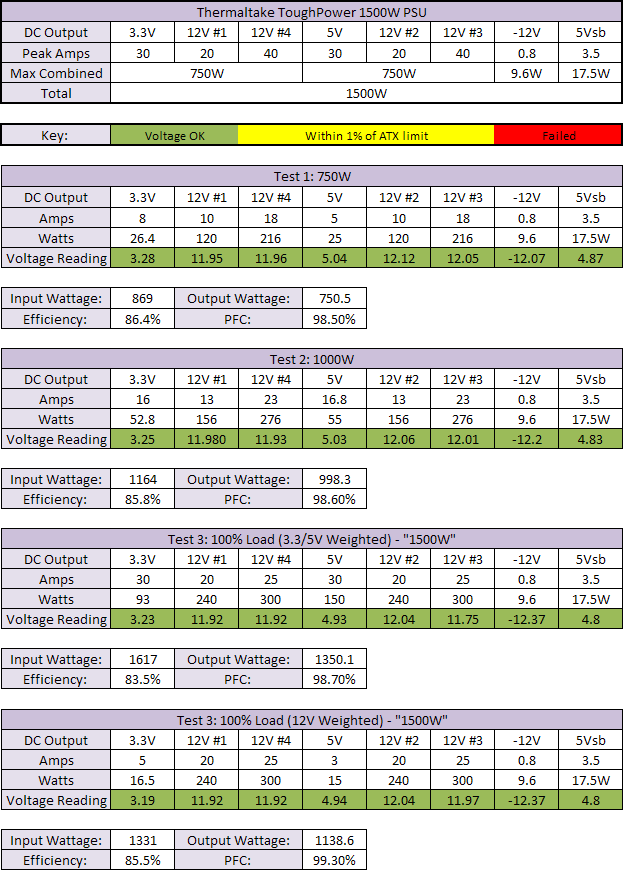 Value
The cheapest we could find the Thermaltake Toughpower 1,500W for in the UK was £179.78 whereas the 1,200W is just £162.20.

Comparatively other high power units we'd consider are the Enermax Galaxy 1,000W (we know Enermax usually charges a premium) is £170.25 and the new Corsair HX1000 which is also made by CWT and includes 12V to 3.3V and 5V DC-DC conversion to increase efficiency, is just £146.88.

The Tagan 1,300W BZ PSU is a little more at £185.71 but it also features Nvidia's ESA and illuminated modular connectors. The PC Power and Cooling Turbo-Cool 1,200W with is massive single 12V rail is surprisingly absent from the UK market – we could only find it at Play.com of all places for a whopping £319.99. The 1kW model is barely more available and also commands a hefty £234.94 price tag.

In fact, there are very few 1,500W models on the market and of them Thermaltake is the cheapest and the only one we'd consider since the competition is not that great.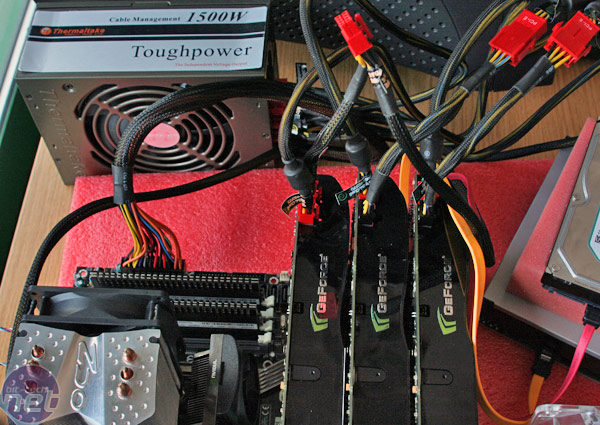 Conclusions
While those who need a 1,500W power supply are a small few, Thermaltake (and CWT) have produced an ultra high power unit that's left us with highs and lows. On one hand it's extremely efficient and provides a the most comprehensive multi-GPU support we've ever seen, it has great modular connectors and even ferrite cores on the PCI-Express cables. However, we feel some of the cable choices could have been better and the hot spots at very high load mean we can't really recommend it – we feel it just can't quite do what it says on the tin, safely.

The thing is: you'll be extremely hard pushed to use anywhere near 1,500W. We tested a 3-way SLI system with a QX9770, 2GB of overclocked DDR3 and three Nvidia GeForce 9800 GTX cards and looped Crysis for a while to warm everything up a bit. An hour later, the PSU is still very quiet yet quite warm to touch, but that's because it was only loaded to ~450W, peaking at 515W. Why do I need 1,100W for 3-way SLI again? Even with eight SATA drives connected to this unit, that'll still be less than 650W at a gross over-estimate.

Even though a Skulltrail platform (for the three people in the world that can afford one) should again bump the power requirements a little again, why should we make the 1,500W a consideration over other 1,200W or 1,000W models?


Final Thoughts
It's difficult to ascertain the value and the worth of 1,500W – while Thermaltake makes the only one worth buying for far less than the very few competitors sell for, the value of 1,500W is certainly questionable. Even if we wanted to kit out the baddest rig under the sun, we'd still opt for other units on the market. After all, if you think you need one you're already splashing out several grand for the best hardware on the planet, so at least complement it with something that's as super high end.