ΤΕΛΕΥΤΑΙΑΣ ΤΕΧΝΟΛΟΓΙΑΣ ΚΙΝΗΤΟ - PDA, ΜΟΝΤΕΛΟ 2008 CECT, ΜΕ FULL TOUCH SCREEN, MP4 PLAYER, ΕΧΕΙ ΤΑ ΠΑΝΤΑ ΕΠΑΝΩ, ΠΟΛΥ ΜΙΚΡΟ ΣΕ ΜΕΓΕΘΟΣ, ΟΛΟΚΑΙΝΟΥΡΓΙΟ !!!!!
Λήγει σε:
Η καταχώρηση έχει λήξει!
Τελική τιμή:
80€
Αρχική τιμή: 75€
Τύπος καταχώρησης: ΔΗΜΟΠΡΑΣΙΑ
Τοποθεσία και αποστολή
Τοποθεσία πωλητή:
N. LAKONIA - SPARTH
Όροι αποστολής:
Επιβαρύνουν τον αγοραστή
Έξοδα αποστολής:
Δεν έχουν οριστεί από τον πωλητή
Τρόποι πληρωμής:
Αντικαταβολή με Courier | ΕΛΤΑ Αντικαταβολή | Κατάθεση σε τράπεζα |
Η δημοπρασία ξεκίνησε:
05/03/2009 - 02:11
Έληξε στις:
05/03/2009 - 19:23
ID:
15182821
Κατάσταση:
Μεταχειρισμένο
Περιγραφή
!!! ΠΡΟΣΦΟΡΑ !!!
***** ΕΚΠΛΗΚΤΙΚΟ ΚΙΝΗΤΟ - PDA, ΤΕΛΕΥΤΑΙΑΣ ΤΕΧΝΟΛΟΓΙΑΣ, ΜΟΝΤΕΛΟ CECT 2008 *****
FULL TOUCH SCREEN, Multimedia + A2DP Stereo Headphone Support!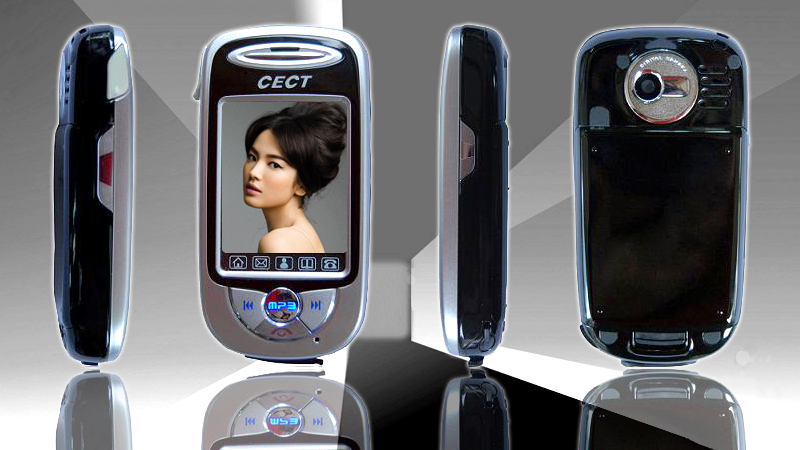 ΕΝΑ ΥΠΕΡΣΥΓΧΡΟΝΟ ΚΙΝΗΤΟ, ΠΟΥ ΠΑΙΖΕΙ ΣΕ ΟΛΑ ΤΑ ΔΙΚΤΥΑ ΚΙΝΗΤΗΣ ΤΗΛΕΦΩΝΙΑΣ
*** ΜΕ ΑΓΓΛΙΚΟ ΜΕΝΟΥ ***
!!! Η ΜΑΓΕΙΑ ΤΗΣ TOUCH SCREEN ΟΘΟΝΗΣ ΠΟΥ ΔΙΑΘΕΤΕΙ ΘΑ ΣΑΣ ΑΝΕΒΑΣΕΙ ΣΤΑ ΥΨΗ !!!
ΜΙΚΡΟ ΣΕ ΜΕΓΕΘΟΣ, ΑΛΛΑ ΜΕΓΑΛΟ ΣΕ ΔΥΝΑΤΟΤΗΤΕΣ
ΤΟ ΚΙΝΗΤΟ ΘΑ ΔΟΘΕΙ ΧΩΡΙΣ ΤΟ ΚΟΥΤΙ ΤΟΥ, ΑΛΛΑ ΕΙΝΑΙ ΟΛΟΚΑΙΝΟΥΡΓΙΟ - ΣΦΡΑΓΙΣΜΕΝΟ,
ΟΠΩΣ ΚΑΙ ΤΑ ΑΞΕΣΟΥΑΡ ΤΟΥ.
ΔΩΡΑ:


ΔΕΥΤΕΡΗ ΜΠΑΤΑΡΙΑ
ΣΤΕΡΕΟΦΩΝΙΚΑ ΑΚΟΥΣΤΙΚΑ HANDSFREE,
ΚΑΙ ΚΑΡΤΑ ΜΝΗΜΗΣ 512MB MICRO SD !!!!!

2.4" inch High-quality QVGA TFT Color Touch Screen PDA
Dual Band: GSM 900/1800 Mhz
Alternating Unlocked to Any Sim Card Useage
1.3 Megapixel Camera with Auto Focus
MP3 MP4 Player
Video Recorder/ Sound Recorder
Multi-function SmartPhone
Ringtone: Various Poly/MP3 Ringtone
Speed Dial, Flight Mode, Handwriting Recognition.
Scheduled Power on/off for less batttery consumption
Innovative Design
MMS/GPR included: GPRS/MMS/SMS Enable
MS/MMS/GPRS Cellular enhancement protocol : GSM, GPRS
GPRS Class 10
Buiilt in 3D speakers for excellent sound (8 types of equalizer effects)
Support up to 1GB External Micro SD Memory
512MB Micro SD Memory Card included FREE
Standby Time : 120 Hours Talk Time: Approx 3 hrs
Weight : 102g (exclude battery). Dimensions : 48 x 93 x 16mm
Security Function, password lock
Built-in game software
Bulit in High Quality External Speakers
Smart Handwriting Recognition
General Information
Support Service Area: UK, Europe, Australia, Middle East, Asia
Dual-Band: GSM GPRS 900 / 1800 MHz
Unlocked for any GSM Network & any Tele Company, SIM Card Unlocked
Cellular enhancement protocol: GSM, GPRS
Memory: Built in 512MB, Expandable to 1GB Max (Micro SD flash)
Language: English, Chinese
Remember to Charge your phone for at least 8 hours for first time use.
Digital Camera - Multi-Function
Image Resolution: 1.3 Mega Pixels
4x Digital Zoom
Image Size: 1280X960, 640x480, 320x240, 160x120, 176x220
Image Quality: High, Normal, Low
+settings for different effects
White Balance: Auto, Daylight, Tungsten, Florescent, Cloud, Incadescence.
Delay Capture: 5, 10, 15 sec.
Shutter Sound, EV (-4~+4), Night Mode
Exposure Compensation: +/- 4.0 EV (4.0EV / step)
Usage of Photo: Adding Frames, Wallpaper, Screen Saver, Power On Display
Video Recorder - Multi-Function
Encode Format: MP4, H.263
Video Quality: High, Fine, Normal, Low
File Size: No Limit/ Rec Time: No Limit
Video Effect Setting: Grayscale, Sepia, Sepia Green/Blue, Color Invert, Gray Invert, Blackboard, Whiteboard, Copper/Blue Carving, Embossment, Contrast, Sketch,
White Balance: Auto, Daylight, Tungsten, Fluorescent, Cloud, Incandescence
Exposure Compensation: +/- 4.0 EV (4.0EV / step)
Night Mode: On, Off
Record Audio: On, Off
Usage of Video: PhoneBook, Screen Saver, Power On Display, Power Off Display
Video Quality: High, Fine, Normal, Low
MP4 Player - Multi-Function
Format:MP4, 3PG
Full Screen Viewing: Yes
MP3 Player - Multi-Function
Support MP3 player with mp3, midi, wav format
Display: Song Name, Time & Status
Player Settings: Play List, Repeat, Shuffle, Background Play
Sound Effects: Equalizer, 3D Speaker Surround Effect
SmartPhone - Multi-Function
Standby Time: Up to 150 hours
Talk Time: Up to 180-300 mins
Data Services:SMS, MMS, GPRS, Email
Ring Tone: Multi polyphonic, MP3
Incoming Call Display: Caller Picture, Caller Video, Call waiting, Call Barring, Call Divert
Function during Phone Call: Speaker, Mute, Call Hold, Sound Recording, Auto Redial, IP number
PhoneBook Information: Name, Number, Home Number, Company Name, Email Address, Office Number, Fax
Mumber, Birthday date, Picture Display, Video Display, Ring Tone, Caller Group
Security Setup: SIM Lock, Phone Lock, Keypad Lock
Ring Type: Ring, Vibration Only, Ring & Vibration, Vibration then Ring
Entertainment - Extra-Function
Game: Built-in games and Java Support
Calculator, Converter, Themes, Alarm, World Clock



1) 1 x Touchscreen MP3/MP4 PDA Phone
2) 2 x Batteries
3) 1 x Charger
4) 1 x Stereo Handsfree for Music and Phone call
5) 1 x 512MB Micro SD flash
6) 1 x USB Cable