Asus Radeon HD 4850 512MB - 1986MHz Memory Clock 625MHz Core clock 800 Stream Processing Units
Λήγει σε:
Η καταχώρηση έχει λήξει!
Τελική τιμή:
100€
Αρχική τιμή: 100€
Τύπος καταχώρησης: ΔΗΜΟΠΡΑΣΙΑ
Γνώρισε τον πωλητή:
Είμαι πιστοποιημένο μέλος
Τοποθεσία και αποστολή
Τοποθεσία πωλητή:
Ηρακλειο - Ηρακλειο
Όροι αποστολής:
Επιβαρύνουν τον αγοραστή
Έξοδα αποστολής:
Δεν έχουν οριστεί από τον πωλητή
Τρόποι πληρωμής:
Courier | Αντικαταβολή | Αντικαταβολή με Courier | ΕΛΤΑ | ΕΛΤΑ Αντικαταβολή | Κατάθεση σε τράπεζα | Μετρητά | Παραλαβή | Χέρι με χέρι / Συνάντηση |
Η δημοπρασία ξεκίνησε:
11/01/2009 - 23:03
Έληξε στις:
12/01/2009 - 23:03
ID:
14712633
Κατάσταση:
Μεταχειρισμένο
Περιγραφή
Η κάρτα πωλείται 143 εύρω στο Steel Η κάρτα έχει ελάχιστη χρήση και είναι σε άριστη κατάσταση. Περιλαμβάνεται η απόδειξη αγοράς με την εγγύηση. Οι κάρτες σε Crossfire X αποδίδουν περισσότερα fps ακόμα και σε ανάλυση 2560 x 1600 απο την 280 GTX και ATI Radeon 4870. Η κάρτα έχει λογισμικό από την Asus που επιτρέπουν την αυξομείωση των στροφών του ανεμιστήρα του συστήματος ψύξης. Η δημοπρασία είναι για μια από τις δύο κάρτες. Μπορείτε να δείτε τις υπόλοιπες ενεργές δημοπρασίες μου εδώ Καλή επιτυχία.
The Radeon HD 4850 & 4870: AMD Wins at $199 and $299

...and then disaster struck.

Or at least that's how it felt. The past few weeks have been incredibly tumultuous, sleepless, and beyond interesting. It is as if AMD and NVIDIA
just started pulling out hardware and throwing it at eachother while we stood in the middle getting pegged with graphics cards. And we weren't just hit with new architectures and unexpected die shrinks, but new drivers left and right.

First up was GT200, which appeared in the form of the GeForce GTX 280 and GeForce GTX 260. Of course, both of those can be paired or tri-ed (if you will), but with two cards requiring at least a 1200W PSU we're a bit worried of trying three. Then came the randomness that was the accidental launch of the Radeon HD 4850 (albeit with no architectural information) and only a couple hours later we first heard about the 9800 GTX+ which is a die shrunk higher clocked 9800 GTX that is now publicly announced and will be available in July.

And now we have the other thing we've been working on since we finished GT200: RV770 in all it's glory. This includes the 4850 whose performance we have already seen and the Radeon HD 4870: the teraflop card that falls further short of hitting its theoretical performance than NVIDIA did with GT200. But theoretical performance isn't reality, and nothing can be done if every instruction is a multiply-add or combination of a multiply-add and a multiply, so while marketing loves to trot out big numbers we quite prefer real-world testing with games people will actually play on this hardware.

But before we get to performance, and as usual, we will want to take as deep a look into this architecture as possible. We won't be able to go as deep with RV770 as we could with GT200, as we had access to a lot of information both from NVIDIA and from outside NVIDIA that allowed us to learn more about their architecture. At the same time, we still know barely anything about the real design of either NVIDIA or AMD's hardware as they prefer to hold their cards very close.

This won't work long term, however. As we push toward moving compute intensive applications to the GPU, developers will not just want -- they will need low level architectural information. It is impossible to properly optimize code for an architecture when you don't know exact details about timing, latency, cache sizes, register files, resource sharing, and the like. While, this generation, we have decidedly more information from NVIDIA on how to properly program their architecture, we still need more from both AMD and NVIDIA.
And Now, the Rest of the Story
Last week was a weird teaser - we gave you the goods, without explaining what they were.

By now you know that the Radeon HD 4850 is the best buy at $199, but today we're able to tell you much about its inner workings as well as introduce its faster, more expensive sibling: the Radeon HD 4870.
| | | | |
| --- | --- | --- | --- |
| | ATI Radeon HD 4870 | ATI Radeon HD 4850 | ATI Radeon HD 3870 |
| Stream Processors | 800 | 800 | 320 |
| Texture Units | 40 | 40 | 16 |
| ROPs | 16 | 16 | 16 |
| Core Clock | 750MHz | 625MHz | 775MHz+ |
| Memory Clock | 900MHz (3600MHz data rate) GDDR5 | 993MHz (1986MHz data rate) GDDR3 | 1125MHz (2250MHz data rate) GDDR4 |
| Memory Bus Width | 256-bit | 256-bit | 256-bit |
| Frame Buffer | 512MB | 512MB | 512MB |
| Transistor Count | 956M | 956M | 666M |
| Manufacturing Process | TSMC 55nm | TSMC 55nm | TSMC 55nm |
| Price Point | $299 | $199 | $199 |
Priced at $299 the Radeon HD 4870 is clocked 20% higher and has 81% more memory bandwidth than the Radeon HD 4850. The GPU clock speed improvement is simply due to better cooling as the 4870 ships with a two-slot cooler. The memory bandwidth improvement is due to the Radeon HD 4870 using GDDR5 memory instead of GDDR3 used on the 4850 (and GDDR4 for 3870); the result is a data rate equal to 4x the memory clock speed or 3.6Gbps. The Radeon HD 4870 and 4850 both use a 256-bit memory bus like the 3870 before it (as well as NVIDIA's competing GeForce 9800 GTX), but total memory bandwidth on the 4870 ends up being 115.2GB/s thanks to the use of GDDR5. Note that this is more memory bandwidth than the GeForce GTX 260 which has a much wider 448-bit memory bus, but uses GDDR3 devices.
| | | | | | | |
| --- | --- | --- | --- | --- | --- | --- |
| | NVIDIA GeForce GTX 280 | NVIDIA GeForce GTX 260 | NVIDIA GeForce 9800 GTX | ATI Radeon HD 4870 | ATI Radeon HD 4850 | ATI Radeon HD 3870 |
| Memory Size | 1GB | 896MB | 512MB | 512MB | 512MB | 512MB |
| Memory Technology | GDDR3 | GDDR3 | GDDR3 | GDDR5 | GDDR3 | GDDR4 |
| Memory Bus Width | 512-bit | 448-bit | 256-bit | 256-bit | 256-bit | 256-bit |
| Memory Clock | 1107MHz | 999MHz | 1100MHz | 900MHz | 993MHz | 1125MHz |
| Memory Data Rate | 2.2Gbps | 2.0Gbps | 2.22Gbps | 3.6Gbps | 1.99Gbps | 2.25Gbps |
| Memory Bandwidth | 141.7GB/s | 111.9GB/s | 70.4GB/s | 115.2GB/s | 63.6GB/s | 72.0GB/s |
The use of GDDR5 enabled AMD to deliver GeForce GTX 260 class memory bandwidth, but without the pin-count and expense of a 448-bit memory interface. GDDR5 actually implements a number of Rambus-like routing and signaling technologies while still remaining a parallel based memory technology, the result is something that appears to deliver tremendous bandwidth per pin in a reliable, high volume solution.

AMD most likely took a risk on bringing GDDR5 to market this early and we do expect NVIDIA to follow suit, AMD is simply enjoying the benefits of jumping on the GDDR5 bandwagon early and getting it right, at least it seems that way. It wouldn't be too far fetched to imagine a 55nm GT200 die shrink with a 256-bit GDDR5 memory interface, it should allow NVIDIA to drop the price down to the $300 level (at least for the GTX 260).

As we mentioned in our Radeon HD 4850 Preview, both the Radeon HD 4870 and 4850 now support 8-channel LPCM audio output over HDMI. AMD just sent over 8-channel LPCM drivers for the Radeon HD 4870 so we'll be testing this functionality shortly. As we mentioned in our 4850 preview:
"All of AMD's Radeon HD graphics cards have shipped with their own audio codec, but the Radeon HD 4800 series of cards finally adds support for 8-channel LPCM output over HDMI. This is a huge deal for HTPC enthusiasts because now you can output 8-channel audio over HDMI in a motherboard agnostic solution. We still don't have support for bitstreaming TrueHD/DTS-HD MA and most likely won't anytime this year from a GPU alone, but there are some other solutions in the works for 2008."
The Radeon HD 4870 is scheduled for widespread availability in early July, although AMD tells us that some cards are already in the channel. Given that the 4870 relies on a new memory technology, we aren't sure how confident we can be that it will be as widely available as the Radeon HD 4850 has been thus far. Keep an eye out but so far the 4850 has been shipping without any issues at $199 or below, so as long as AMD can get cards in retailers' hands we expect the 4870 to hit its $299 price point.
The Test
Test Setup
CPU
Intel Core 2 Extreme QX9770 @ 3.20GHz

Motherboard
EVGA nForce 790i SLI
Intel DX48BT2
Video Cards
ATI Radeon HD 4870
ATI Radeon HD 4850
ATI Radeon HD 3870X2
ATI Radeon HD 3870
EVGA GeForce 9800 GTX KO
NVIDIA GeForce 9800 GTX+
NVIDIA GeForce 9800 GTX
NVIDIA GeForce 9800 GX2
NVIDIA GeForce 8800 GTX
NVIDIA GeForce 8800 GT
NVIDIA GeForce GTX 280
NVIDIA GeForce GTX 260
Video Drivers
Catalyst Press Driver (8.7 beta)
Catalyst 8.5
ForceWare 177.34 (for GT200)
ForceWare 177.39 (for 9800 GTX/9800 GTX+)
ForceWare 175.16 (everything else)
Hard Drive
Seagate 7200.9 120GB 8MB 7200RPM
RAM
4 x 1GB Corsair DDR3-1333 7-7-7-20
Operating System
Windows Vista Ultimate 64-bit SP1

PSU
PC Power & Cooling Turbo Cool 1200W
Multi-GPU Performance
Crysis
NVIDIA's
own multi-GPU solution outperformed the GeForce GTX 280 when it launched, so it is not too surprising to see the Radeon HD 4870 in CrossFire mode doing the same. If AMD can put two of these things on a single card it will have a viable competitor for the GTX 280 as well as the GX2.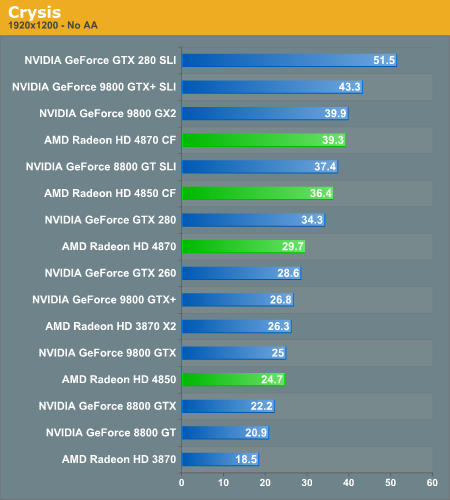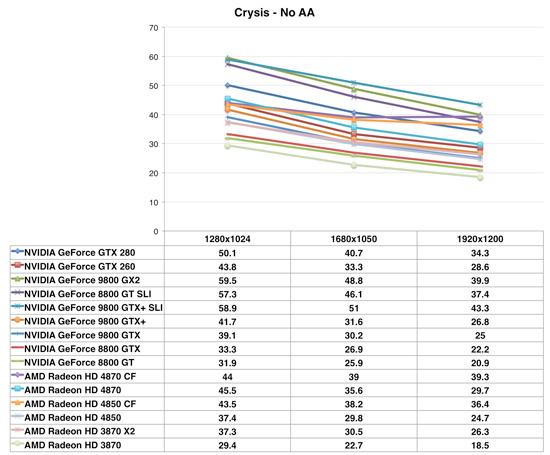 Click to Enlarge
Call of Duty 4
AMD's architecture did very well under Call of Duty 4
in the single-card tests, with a single Radeon HD 4870 performing better than a GeForce GTX 260. The scaling from one to two cards is beyond perfect in CoD4, the reason being that we test on two different platforms (Intel X48 for CrossFire, NVIDIA 790i for all single-cards), the end result is a rare case where two of AMD's $300 cards actually outperform two of NVIDIA's $650 cards. By no means is it the norm, but it is a testament to the strength of AMD's RV770 GPU.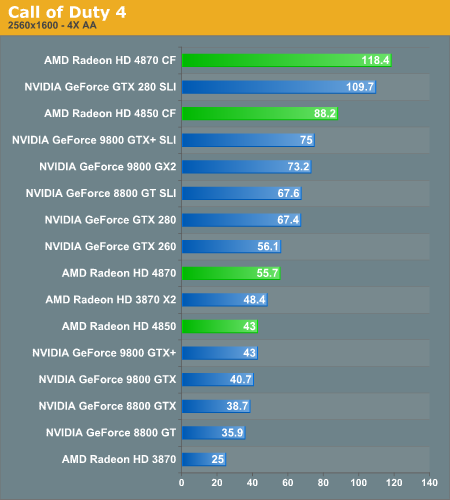 Enemy Territory: Quake Wars
CrossFire continues to scale poorly in Quake Wars, while NVIDIA's GeForce GTX 280 SLI completely dominates the charts here. The 4870 CF performance isn't terrible, it's actually in line with where it should be (2 x $300 cards are about as fast as 1 x $650 card).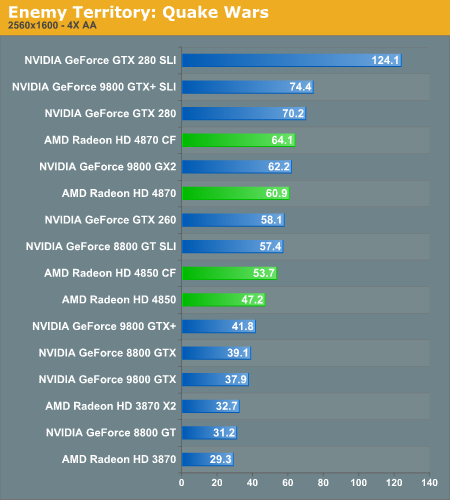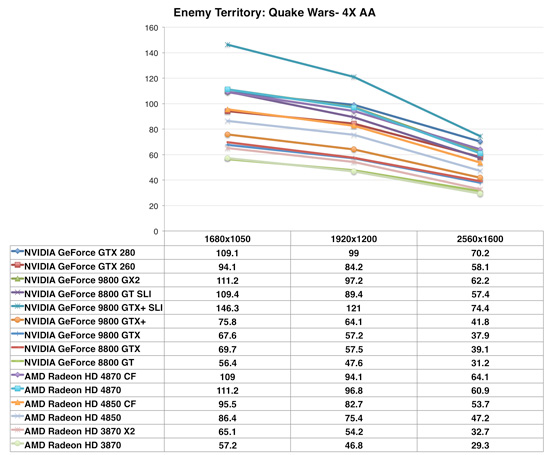 Click to Enlarge
Assassin's Creed
Even at 2560 x 1600 the high end configurations are bumping into a frame rate limiter, any of the very high end setups are capable of running Assassin's Creed very well.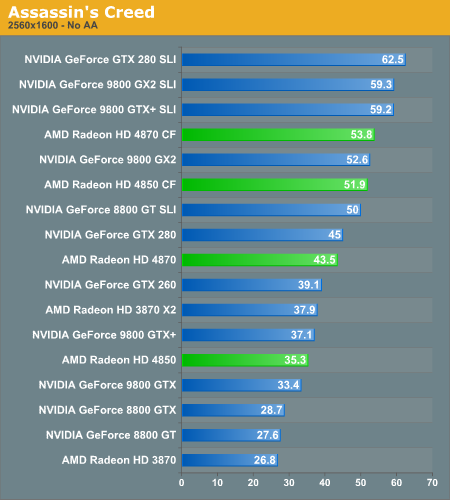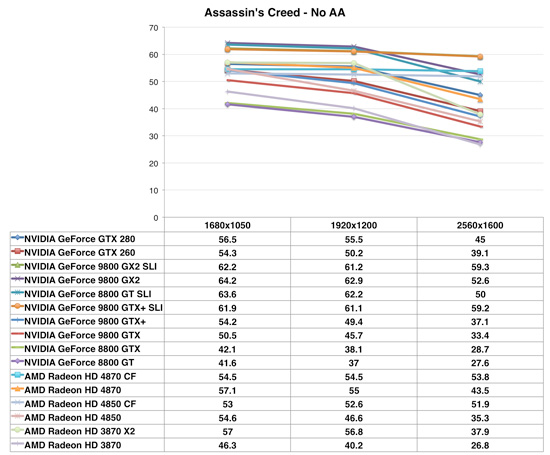 Click to Enlarge
Oblivion
The GeForce 9800 GTX+ does very well in Oblivion and a pair of them actually give the 4870 CF a run for its money, especially given that the GTX+ is a bit cheaper. While it's not the trend, it does illustrate that GPU performance can really vary from one application to the next. The Radeon HD 4870 is still faster, overall, just not in this case where it performs equally to a GTX+.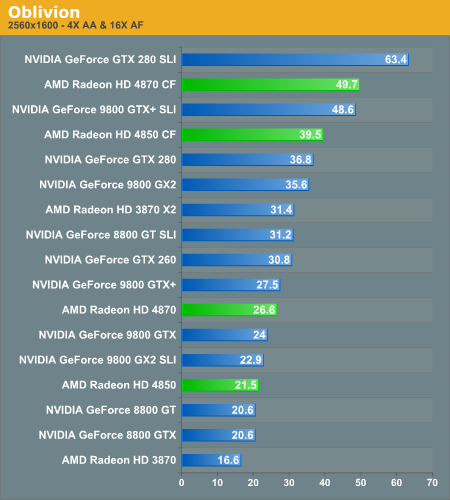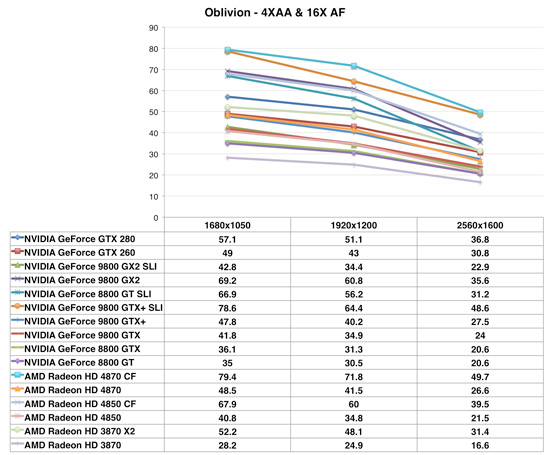 Click to Enlarge
The Witcher
We've said it over and over again: while CrossFire doesn't scale as consistently as SLI, when it does, it has the potential to outscale SLI, and The Witcher is the perfect example of that. While the GeForce GTX 280 sees performance go up 55% from one to two cards, the Radeon HD 4870 sees a full 100% increase in performance.

It is worth noting that we are able to see these performance gains due to a late driver drop by AMD that enables CrossFire support in The Witcher. We do hope that AMD looks at enabling CrossFire in games other than those we test, but we do appreciate the quick turnaround in enabling support - at least once it was brought to their attention.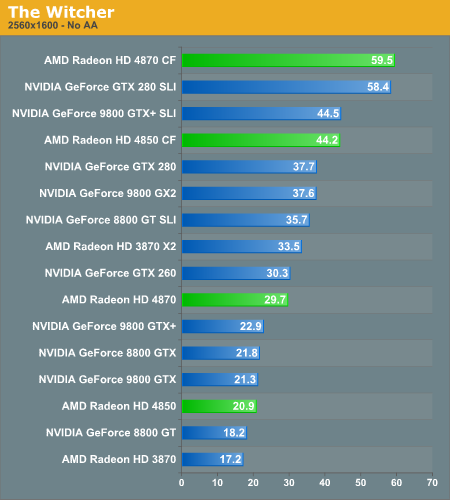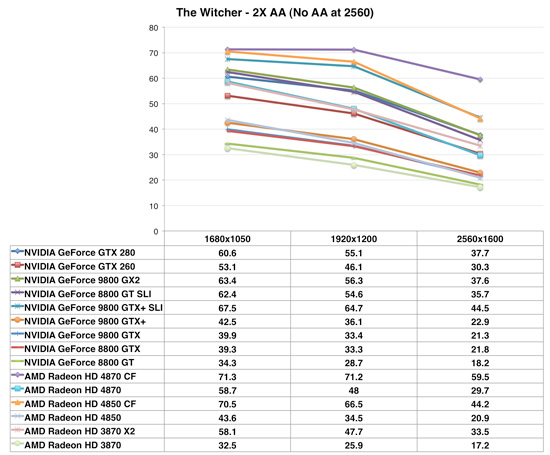 Click to Enlarge
Bioshock
The Radeon HD 4000 series did very well in Bioshock in our single-GPU tests, but pair two of these things up and we're now setting performance records.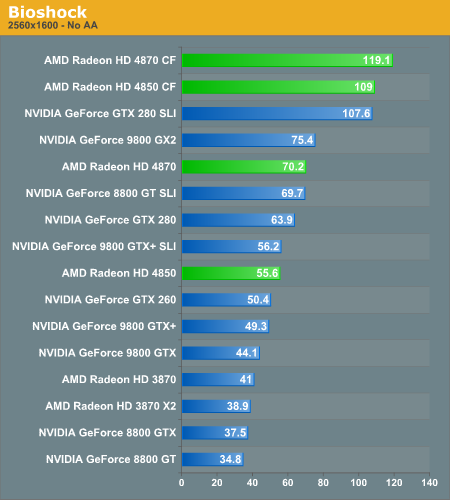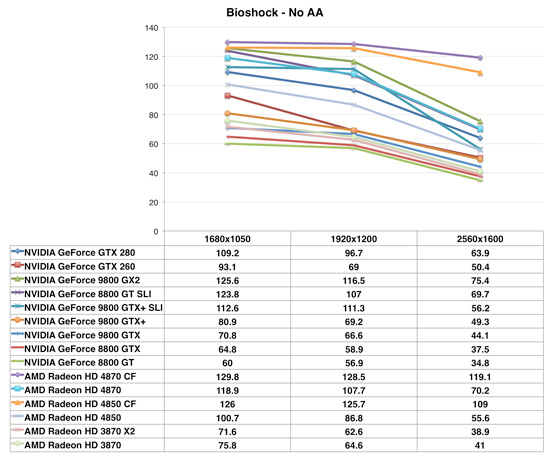 Click to Enlarge
Power Consumption
NVIDIA's
idle power optimizations do a great job of keeping their very power hungry parts sitting pretty when in 2D mode. Many people I know just leave their computers on all day and generally playing games 24 hours a day is not that great for the health. Idle power is important, especially as energy costs rise, and taking steps to ensure that less power is drawn when less power is needed is a great direction to move in. AMD's 4870 hardware is less power friendly, but 4850 is pretty well balanced at idle.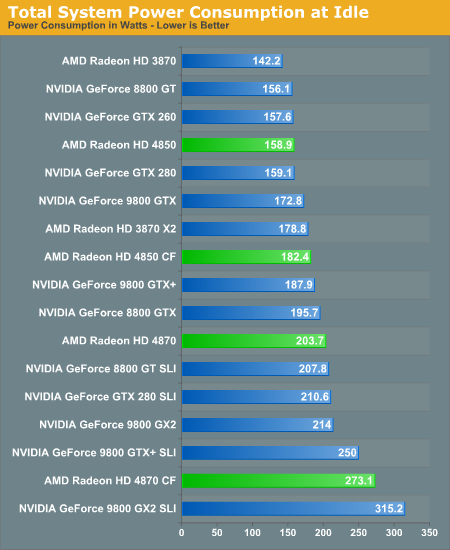 Moving on to load power.

These numbers are peak power draw experienced over multiple runs of 3dmark vantage's third feature test (pixel shaders). This test heavily loads the GPU while being very light on the rest of the system so that we can get as clear a picture of relative GPU power draw as possible. Playing games will incur much higher system level power draw as the CPU, memory, drives and other hardware may also start to hit their own peak power draw at the same time. 4850 and 4870 CrossFire both require large and stable PSUs in order to play actual games.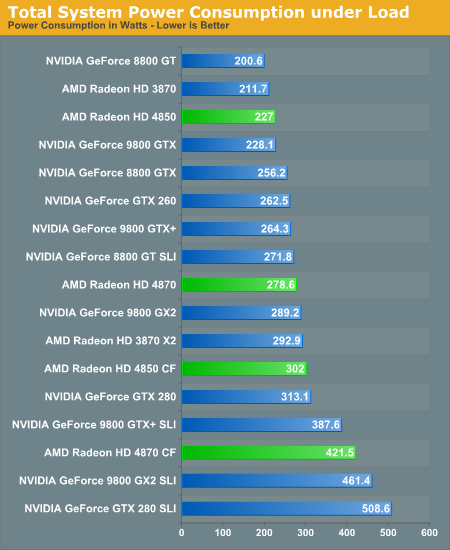 Clearly the 4870 is a power junky posting the second highest peak power of any card (second only to NVIDIA's GTX 280). While a single 4870 draws more power than the 9800 GX2, quad SLI does peak higher than 4870 crossfire. 4850 power draw is on par with its competitors, but 4850 crossfire does seem to have an advantage in power draw over the 9800 GTX+.

Heat and Noise

These cards get way too hot. I keep burning my hands when I try to swap them out, and Anand seems to enjoy using recently tested 4800 series cards as space heaters. We didn't look at heat data for this article, but our 4850 tests show that things get toasty. And the 4870 gets hugely hot.

The fans are kind of quiet most of the time, but some added noise for less system heat might be a good trade off. Even if it's load, making the rest of a system incredibly hot isn't really the right way to go as other fans will need to work harder and/or components might start to fail.

The noise level of the 4850 fan is alright, but when the 4870 spins up I tend to glance out the window to make sure a jet isn't just about to fly into the building. It's hugely loud at load, but it doesn't get there fast and it doesn't stay there long. It seems AMD favored cooling things down quick and then returning to quiet running.
Final Words
Due to circumstances quite beyond our control, this will be essentially the third time we've covered the Radeon HD 4850. AMD has managed to make the $200 price point very exciting and competitive, and the less powerful version of RV770 that is the 4850 is a great buy for the performance.

As for the new business, the Radeon HD 4870 is not only based on an efficient architecture (both in terms of performance per area and per watt), it is an excellent buy as well. Of course we have to put out the usual disclaimer of "it depends on the benchmark you care about," but in our testing we definitely saw this $300 part perform at the level of NVIDIA's
$400 GT200 variant, the GTX 260. This fact clearly sets the 4870 in a performance class beyond its price.

Once again we see tremendous potential in CrossFire. When it works, it scales extremely well, but when it doesn't - the results aren't very good. You may have noticed better CrossFire scaling in Bioshock and the Witcher since our Radeon HD 4850 preview just a few days ago. The reason for the improved scaling is that AMD provided us with a new driver drop yesterday (and quietly made public) that enables CrossFire profiles for both of these games. The correlation between the timing of our review and AMD addressing poor CF scaling in those two games is supicious. If AMD is truly going to go the multi-GPU route for its high end parts, it needs to enable more consistent support for CF across the board - regardless of whether or not we feature those games in our reviews.

That being said, AMD's strategy has validity as we've seen here today. A pair of Radeon HD 4850s can come close to the performance of a GeForce GTX 280, and a pair of Radeon HD 4870s are faster across the board - not to mention that they should be $50 less than the GTX 280 and will work on motherboards with Intel-chipsets. Quite possibly more important than the fact that AMD's multi-GPU strategy has potential is the fact that it may not even be necessary for the majority of gamers - a single Radeon HD 4850 or Radeon HD 4870 is easily enough to run anything out today. We'll still need the large monolithic GPUs (or multi-GPU solutions) to help drive the industry forward, but AMD raised the bar for single-card, single-GPU performance through good design, execution and timing with its RV770. Just as NVIDIA picked the perfect time to release its 8800 GT last year, AMD picked the perfect time to release the 4800 series this year.

Like it's RV670 based predecessors, the Radeon 4850 and 4870 both implement DX10.1 support and enable GPU computing through their CAL SDK and various high level language constructs that can compile down SPMD code to run on AMD hardware. While these features are great and we encourage developers to embrace them, we aren't going to recommend cards based on features that aren't yet widely used. Did we mention there's a tessellator in there?

On the GPGPU side of things, we love the fact that both NVIDIA and AMD are sharing more information with us, but developers are going to need more hardware detail. As we mentioned in our GT200 coverage, we are still hoping that Intel jumping in the game will stir things up enough to really get us some great low level information.

We know that NVIDIA and AMD do a whole lot of things in a similar way, but that their compute arrays are vastly different in the way they handle single threads. The differences in the architecture has the effect of causing different optimization techniques to be needed for both architectures which can make writing fast code for both quite a challenge. The future is wide open in terms of how game developers and GPGPU programs tend to favor writing code and what affect that will have on the future performance of both NVIDIA and AMD hardware.

For now, the Radeon HD 4870 and 4850 are both solid values and cards we would absolutely recommend to readers looking for hardware at the $200 and $300 price points. The fact of the matter is that by NVIDIA's standards, the 4870 should be priced at $400 and the 4850 should be around $250. You can either look at it as AMD giving you a bargain or NVIDIA charging too much, either way it's healthy competition in the graphics industry once again (after far too long of a hiatus).