Creative Sound Blaster X-Fi Titanium Fatal1ty Professional 7.1 Channels PCI Express Sound Card
Λήγει σε:
Η καταχώρηση έχει λήξει!
Τελική τιμή:
80€
Αρχική τιμή: 1€
Τύπος καταχώρησης: ΔΗΜΟΠΡΑΣΙΑ
Γνώρισε τον πωλητή:
Είμαι πιστοποιημένο μέλος
Τοποθεσία και αποστολή
Τοποθεσία πωλητή:
Ηρακλειο - Ηρακλειο
Όροι αποστολής:
Επιβαρύνουν τον αγοραστή
Έξοδα αποστολής:
Δεν έχουν οριστεί από τον πωλητή
Τρόποι πληρωμής:
Courier | Αντικαταβολή | Αντικαταβολή με Courier | ΕΛΤΑ | ΕΛΤΑ Αντικαταβολή | Κατάθεση σε τράπεζα | Μετρητά | Παραλαβή | Χέρι με χέρι / Συνάντηση |
Η δημοπρασία ξεκίνησε:
07/01/2009 - 22:31
Έληξε στις:
11/01/2009 - 22:31
ID:
14693011
Κατάσταση:
Μεταχειρισμένο
Περιγραφή
H κάρτα ήχου πωλείται 128 εύρω στo ΜSystems Μπορείτε να δείτε τις υπόλοιπες ενεργές δημοπρασίες μου εδώ Καλή επιτυχία.
Creative Sound Blaster X-Fi Titanium Fatal1ty Pro

Creative has been a leader in the PC audio market for as long as I can remember. In fact, the first Sound Blaster card hit the market almost 20 years ago, which can be considered an eternity in "computer years".
During this time, Creative has launched about a dozen major soundcards, with their latest outgoing product being the Sound Blaster X-Fi series, which replaced the popular Audigy line a few years ago.
The X-Fi Titanium Fatal1ty Pro that we are testing today is Creative's latest offering in the series, making use of a slightly modified chip called EMU20K2 that adds native PCI Express support among a number of improvements and fixes over the previous generation of cards.
Aimed at audio enthusiasts and especially gamers, Creative offers two versions of the X-Fi Titanium Fatal1ty Pro. The one we are testing that could be considered the lite version of the package that includes mainly the soundcard, while a more expensive version adds a 5 ¼" I/O drive similar to the ones Creative has offered in the past. Other than the added module, a remote control, and the extra $50, the two products are identical.

Out of the Box
Opening the box doesn't reveal a whole lot. The bundle of this $130 soundcard is scarce and consists of just a quick start guide, the drivers disc, and the card itself.
As mentioned above, one of the first things you will notice about the X-Fi Titanium Fatal1ty is that it uses a PCI Express x1 interface. If you don't have a x1 slot on your motherboard or don't have access to one (due to an oversized video card cooler, for example) you can always install the card in a larger slot, be it x8 or x16.
Besides the PCI Express interface, the card is very unique looking because of the cover that goes over the entire card. Upon first glance, this looks like a large heatsink covering all components, but in reality Creative added the cover for the visual effect that it creates and as a foundation to add the Fatal1ty and X-Fi logos, the latter of which lights up with a white LED when the computer is running. The cover is also used as a shield to protect the delicate capacitors that litter the card's surface.
On the back of the card we have the standard array of audio connections, including the line-in jack and four speaker-out jacks compatible with 2.1, 5.1 and 7.1 speaker systems. Also present are optical in/optical out connections that can be used for things such as gaming consoles and AV receivers, respectively.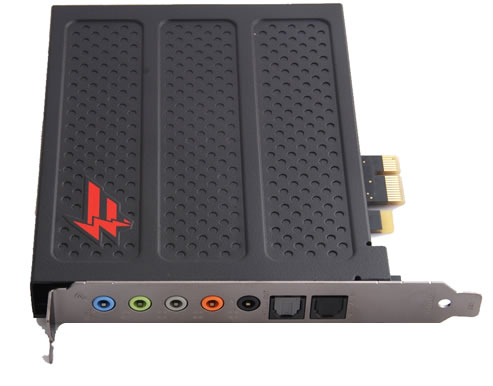 Hardware installation went without issues as expected. I chose to install the X-Fi Titanium in a PCI Express x1 slot as I had one readily available. Software installation, on the other hand, was a bit more involved. Be prepared for this process to take a long time and require a few restarts. Also worth nothing, I experienced a blue screen of death (a.k.a. BSOD) during my initial install and had to start all over again.
This only happened once, after which I was able to successfully install the card's drivers and software. At this point it was made obvious to us that Creative has not made striding efforts to improve a nagging software installation that dates back to the days of the SB Live.
Creative includes an impressive software bundle with the X-Fi Titanium composed of lots of in-house utilities plus PowerDVD. For brevity, I will briefly cover the more relevant software and point out key features along the way in the next page.
Key Features and Software
First up is Creative's MediaSource 5, which includes an Audio Converter, Organizer, and Player. The Audio Converter allows you to easily convert between different audio formats, for example, WAV to MP3, or viceversa. This is a handy program though I'm not sure how much use it would receive considering WAV files are not nearly as popular as they were in the past. There are also plenty of freeware programs that can handle this kind of task nowadays, but that's not to say Creative wasn't right to include such functionality with the card.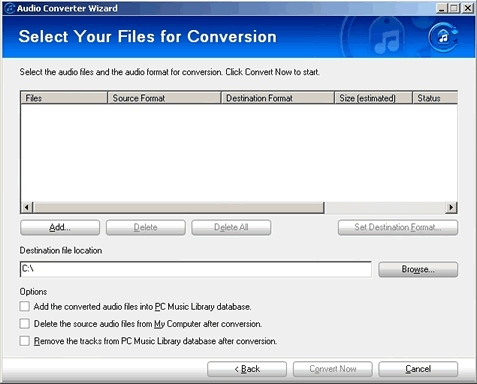 The Organizer is a nice piece of software that allows you to accomplish a lot of tasks from the home screen. You can edit track information, create playlists, and even analyze your music to acquire tempo and loudness information. With tempo information, you can create playlists based on the type of music automatically (somewhat similar to Apple's new Genius feature in iTunes). With loudness information, you can eliminate volume differences across songs. If you don't already use something like iTunes or Windows Media Player, I would give the Organizer some serious consideration.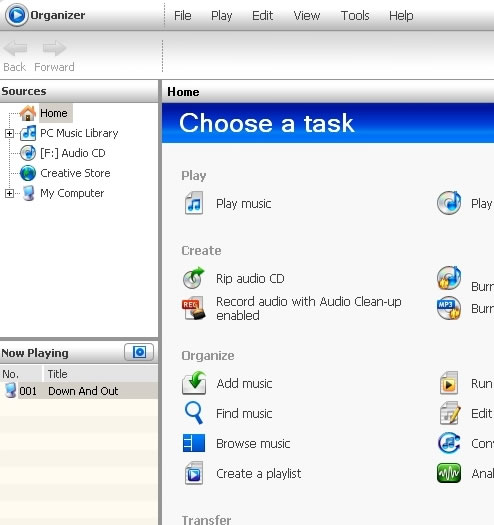 If you prefer a smaller footprint, the Player might be right for you. Similar to Winamp, this is a simple interface that allows you to play various media without taking up your entire screen.

The Creative Audio Console is where most of the card options can be found. One area of major interest is the Mode tab, where you can select between three presets: Entertainment, Game, and Audio Creation. Each mode is meant to offer an optimized setting and environment for the task. Switching between modes, I was able to hear a substantial difference, for example, Entertainment mode is much louder and seems to have a more robust sound versus Game mode while listening to music.
The X-Fi CMSS-3D tab allows you to toggle this feature on or off and adjust its settings. X-Fi CMSS-3D Virtual expands your MP3s and digital movies into surround sound through your speakers or headphones. This actually works very well when using headphones during gaming, but I preferred to leave it off when listening to MP3s with my headphones and speakers.
The X-Fi Crystalizer is something I was familiar with already and if you are a big music buff, this is somewhat of a must-have feature. According to the X-Fi FAQ, the Crystalizer "analyzes your audio file, identifies key elements that were lost or damaged during the compression process, and re-masters them using selective audio enhancement. The mid-range and high-end (treble) becomes cleaner and clearer. Low-end (bass) frequencies are richer and more defined."
This may sound like a cheap marketing gimmick but Crystalizer does work one way or the other. Creative has been offering this feature for some years now, and so far we have seen a mix of opinions among users whether they like the change produced by this feature or don't like it at all. As we discussed in our review of the original Creative X-Fi soundcard:
But can the 24-Bit Crystalizer make your MP3s or CDs really sound that much better? Not really. Although in most cases sound will be audibly different depending on how the signal is being altered, whether it sounds better is debatable; and to some extent will depend on your speakers/headphones, and what frequencies they can reproduce. Generally speaking, tracks encoded at low bitrate seem more likely to sound better than those with higher bit rates.
I happen to be on the side of those who like Crystalizer's work. In my opinion, MP3 files just seem to come to life when using Crystalizer, sounding richer and more alive. Furthermore, you can adjust the strength of the Crystalizer from 0% up to 100% - I kept mine around 75% at all times.
The last bit I will touch on the Audio Console is the Encoder tab, where you can enable Dolby Digital Live which is used to convert 5.1 audio signals into a digital bitstream in real time for transport and playback through a Dolby Digital-equipped home theater system or digital speaker system via a single digital connection.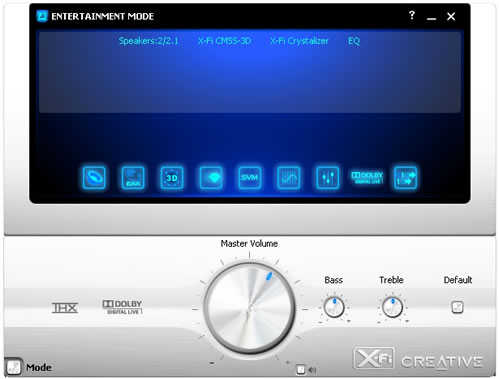 Creative also includes an interface that allows you to associate applications and run them in the best suited X-Fi audio mode. For example, you can automatically have the audio mode set to Entertainment when you open your media player, then switch to Game mode when you run a gaming title of your choosing. This could save you a little time but more importantly, it puts you in the right mode for the task at hand. I can be pretty forgetful at times and I wouldn't put it past myself to forget to change audio modes before hopping into a game.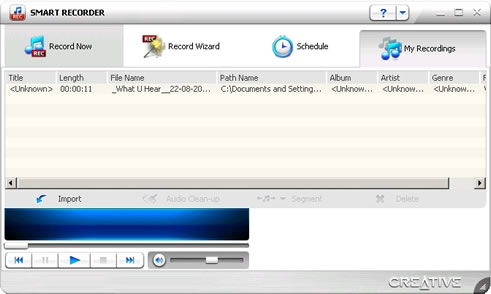 The functionality offered by the Creative Smart Recorder is something I have actually been in the market for lately. With this piece of software, you can record audio from various sources, but my favorite "What U Hear", simply records anything that is playing on your speakers (can be combined sources). I have been using this feature to record some internet radio shows while I am busy with other projects or away from the computer. Your recordings can be saved as WAV or WMA formats and you can select its bit rate as well.

I have been using the X-Fi Titanium Fatal1ty Pro for a few weeks now, paired with my Logitech G51 5.1 Speakers and Logitech Noise-Canceling Headphones, and so far I have been impressed.
A majority of testing has been done with music, since I'm almost always listening to a playlist while working on the computer. I listened to a wide variety of music ranging from rock to rap and yes, even some country. Music in general sounds fantastic with this card, but as I mentioned earlier, enabling the X-Fi Crystalizer brings a whole new level of depth and clarity to the table. This feature alone would be enough for me to justify buying the card.
Using the X-Fi Titanium for gaming is where this card really shines. Set the audio mode to Game Mode, select the appropriate speaker configuration, and fire up your favorite game.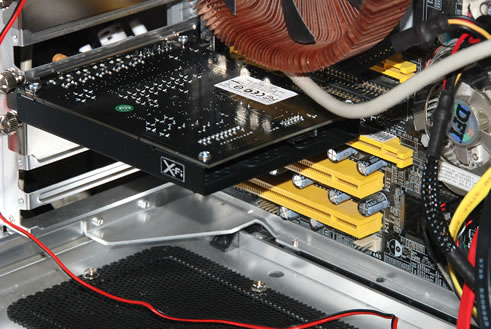 When using headphones or a set of stereo speakers, I would recommend enabling the X-Fi CMSS-3D feature (virtual surround) to get the most realistic environment possible. Games sounded absolutely fantastic when using this feature with my headphones. I was clearly able to hear enemies approaching from every angle which gave me a slight edge in Far Cry, as I could turn to meet them or even get the jump and surprise them.
My genre of choice is driving/racing games, so a bit of Need for Speed: Carbon was in order as well. Performance when using my 5.1 speaker system was equally pleasing and beneficial.
Additionally, this card comes with 64 MB of on-board memory (Creative calls it X-RAM), which can be used by a select number of games to improve overall system performance.
According to Creative's website: "A game that detects X-RAM can decompress its data at load time so that it does not have to spend precious processor cycles decompressing data during runtime." This could also alleviate some strain on the hard drive, as game sounds could be stored on the card instead of having to stream them from the hard drive or RAM.
As of writing, I only know of a few games that currently support X-RAM, namely: Quake 4, Battlefield 2 and Unreal Tournament 3, but because I don't own any of them I couldn't test this feature out. It would have been nice for Creative to include one of these games as a bundle to show off the X-RAM capabilities, and encourage other developers to write code to enable this feature in their games.
We know for a fact many people still use integrated audio, and perhaps they see no big reason to switch. Audio is audio and it all sounds the same, right? Absolutely not!
Most people aren't too concerned with audio unless they have been subjected to higher quality options, which is unfortunate. If you do listen to music or play games in your computer and are still using on-board audio, do yourself a huge favor and make the switch to an add-in soundcard and a quality set of speakers or headphones. Truthfully, it doesn't have to be a high-end choice like the X-Fi Titanium Fatal1ty, but a more modest product should be enough to be an eye opener.
There are only a few things that would keep me from purchasing this card. The first is the PCI Express interface. While this would usually be high on our list of pros (and it is), there is the potential that this card could physically interfere with your graphics card, especially if you use a large aftermarket cooler or run multiple cards.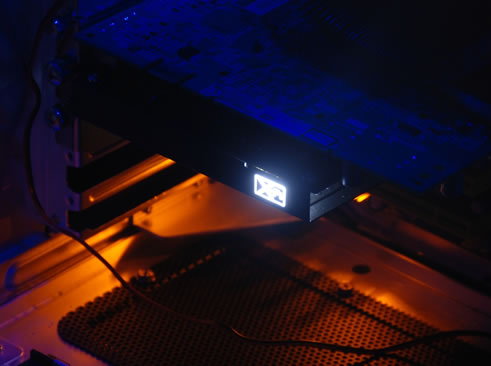 The other issue I have is with the card's hefty price tag. At ~$140, this is a very expensive soundcard and may be too much for the average user to justify, especially if you don't already have a good set of speakers or headphones to match it. However, if you do have decent speakers but still can't justify the price tag, Creative's own X-Fi XtremeGamer, which I had been using for the past year or so, will make for an excellent substitute, but be prepared to forfeit some key features, such as optical in/out.
The high-end aftermarket audio scene is nowhere near as large as other branches of hardware, and thus, there are a limited number of quality manufacturers and cards to choose from. Creative clearly leads the way, but others such as Asus and Razer have been making significant headway as of late. With the X-Fi Titanium, however, I believe Creative has a firm foundation for the long road ahead.
Update: Right after publishing this review, Creative informed us they have added a new card to the X-Fi line-up. The PCI Express Sound Blaster X-Fi Titanium is selling for a discounted price of $99.99, with the main difference being that it removed the Fatal1ty branded cover. Not a bad deal if you were looking into buying a new Creative soundcard.
Pros:
- Wide array of software included
- Native PCI Express support
- Exceptional audio quality
Cons:
- Expensive




SPECIFICATIONS


Feature
Description
Technical Specs
24-bit Digital-to-Analog conversion of digital sources:
96kHz sample rate
24-bit Digital-to-Analog conversion of digital sources:
96kHz to analog 7.1 speaker output
24-bit Digital-to-Analog conversion of stereo digital sources:
192kHz to stereo output
16-bit to 24-bit recording sampling rates:
8,11.025,16, 22.05, 24, 32, 44.1, 48 and 96kHz
ASIO 2.0 support:
16bit/44.1kHz,16-bit/48kHz, 24-bit/44.1kHz 24-bit/48kHz and 24-bit/96kHz with direct monitoring
Enhanced SoundFont support:
Up to 24-bit resolution
X-RAM:
64MB
Audio Performance (Rated Output @ 2Vrms, Typical Value)
Signal-to-Noise Ratio (20kHz Low-pass filter, A-Weighted):
Stereo Output 109dB
Front and Rear Channels 109dB
Center, Subwoofer and Side Channels 109dB
Total Harmonic Distortion + Noise at 1kHz (20kHz Low-pass filter):
0.004%
Frequency Response (-3dB, 24-bit/96kHz input ):
10Hz to 46kHz
Frequency Response (-3dB, 24-bit/192kHz input):
10Hz to 88kHz (Stereo only)
Connectivity
Line in / Microphone In:
Shared 1/8" mini jack
Speaker Out:
4x 1/8" mini jacks
Optical Out:
TOSLINK1
Optical In:
TOSLINK
Intel HD Audio Compatible Front Panel Header:
2x 5-pin
1 Optical Out supports stereo SPDIF out, multichannel out via Dolby Digital Live, and pass through of multichannel DVD sound

Speaker Support
Stereo/2.1 Speakers
4/4.1 Speakers
5.1 Speakers
7.1 Speakers
Headphones
Bus Connection

SOFTWARE


Mode Switcher (to switch between Audio Creation, Entertainment and Game mode)
Audio Console
Creative MediaSource
Smart Recorder
SoundFont Bank Manager
THX Setup Console
Creative ALchemy
Volume Panel
WaveStudio
Console Launcher
Creative Diagnostics
Get PowerDVD (Internet Download)
Get the Pro Gamer's choice for sound
Realistic EAX® 5.0 sound effects that pull you into the game
Accurate 3D positional audio - even with normal headphones
Accelerated audio for unbeatable game performance
Clearer voice chats for better voice communication
Works with PCI Express equipped PCs
Chosen by professional gamers, the PCI Express Sound Blaster X-Fi Titanium Fatal1ty Professional Series sound card delivers the ultimate PC gaming audio experience. You'll hear realistic EAX® 5 sound effects and 3D positional audio so accurate you can locate opponents by mere sound - even over normal headphones. Plus, get unbeatable performance in your games with hardware accelerated audio and X-RAM.
Realistic EAX® 5.0 sound effects

Hear crackling gunfire and earth-shattering explosions. EAX® 5.0 delivers realistic sound effects that will engage you in long hours of gameplay.

EAX® and 3D audio restoration for Windows Vista®

Using Windows Vista®? Creative ALchemy restores the surround sound effect for the same great gaming experience as Windows® XP.

Accurate 3D positional audio

Listen to 3D positional audio so accurate, you can locate your enemies through mere sound alone! Plus, the X-Fi CMSS®-3D gives you amazing surround sound even with normal stereo headphones.
Hardware accelerated performance
Get unbeatable performance with hardware accelerated audio that blows motherboard audio away.
Boost your performance even further in games like Quake 4, Battlefield 2, Prey, Unreal Tournament 3 and others that take advantage of X-RAM.
Clearer voice chats
Plug in your headset or microphone and hear the difference immediately. With high-quality input and hardware audio processing, your teammates will definitely hear you loud and clear.
Boost your audio game performance

Designed for gameplay with ultra-realistic EAX® 5.0 sound effects, accelerated performance and a dedicated game mode.

Dolby Digital Live

Connects to your home theater system through a single digital cable (available separately) for compelling 5.1 surround sound.

Windows Vista compatibility

Certified UAA compliant for maximum Windows Vista compatibility.
Perfect for music, movies and recording
Revitalize downloaded music and movies

Make all your music sound better with Xtreme Fidelity audio technology which restores the detail and clarity to compressed music files like MP3s.

Cinematic surround sound from DVD movies

Enjoy cinematic DVD movie experiences with PowerDVD software featuring DTS-ES® and Dolby Digital® EX decoding. (Requires download via Internet connection).

Enjoy low latency ASIO recording

Record your own music now. The PCI Express Sound Blaster X-Fi Titanium has fantastic inputs and low-latency ASIO drivers for great music recording.
Connectivity
Rear Connections
Connect your favorite audio equipment easily.
Sound Blaster X-Fi is Fatal1ty's choice for audio

"When I'm competing, I need top-class performance and the most realistic sound to help me know where my opponents are. Sound Blaster X-Fi really delivers for me...there is nothing faster or better."

Johnathan "Fatal1ty" Wendel is the best-known professional gamer in the world with 38 First Place wins in eight years of tournament play.