SpeedLink Medusa 5.1 Surround Sound Headset
Λήγει σε:
Η καταχώρηση έχει λήξει!
Τελική τιμή:
5€
Αρχική τιμή: 20€
Τύπος καταχώρησης: ΔΗΜΟΠΡΑΣΙΑ
Γνώρισε τον πωλητή:
Είμαι πιστοποιημένο μέλος
Τοποθεσία και αποστολή
Τοποθεσία πωλητή:
Ηρακλειο - Ηρακλειο
Όροι αποστολής:
Επιβαρύνουν τον αγοραστή
Έξοδα αποστολής:
7€
Τρόποι πληρωμής:
Αντικαταβολή με Courier | ΕΛΤΑ Αντικαταβολή | Κατάθεση σε τράπεζα | Μετρητά | Παραλαβή | Χέρι με χέρι / Συνάντηση |
Η δημοπρασία ξεκίνησε:
22/08/2008 - 22:09
Έληξε στις:
25/08/2008 - 22:09
ID:
13313983
Κατάσταση:
Μεταχειρισμένο
Περιγραφή
Για την δημοπρασία επικοινωνήστε μαζί μου μέσω του emarket ή άμεσα στην ηλεκτρονική διεύθυνση rathe_00@yahoo.com Τα έξοδα αποστολής ανέρχονται στα 7 ευρώ (ΕΛΤΑ,αντικαταβολή). Για αποστολή με courier επικοινωνήστε μαζί μου. Μπορείτε να δείτε τις υπόλοιπες ενεργές δημοπρασίες μου εδώ Καλή επιτυχία.
MedUSA 5.1 Headphones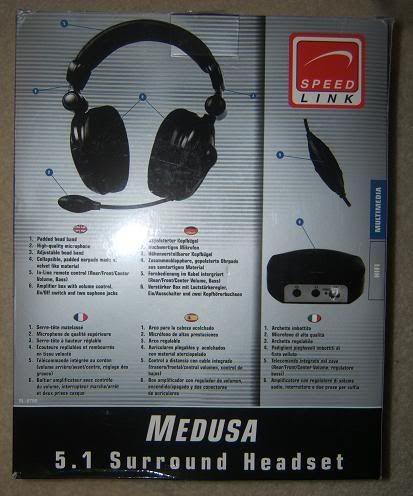 Over the past few months, I've been blessed by having these babies on my ears, sounding beautiful explosions and I can hear footsteps from the rear. These MedUSA 5.1 Surround Sound Headphones are any gamers dream. Now onto the Review!

Features:

5.1 Surround Sound in a headphone format
High-Quality Microphone with flexible mouthpiece
Collapsible, padded earpads made of a velvet like material
In-Line Remote with Rear, Front, Center Volume and Bass Control
Adjustable and padded headband
+ the Contents
Contents and Packaging:


The people at SpeedLink really know how to package a set of headphones I tell ya! WOW is all I can say, they really do a nice job here.
As you can see the in picture above the contents of the package are put into a very sturdy black cardboard box that is within the cover gray box. In the black box is a nice velvet like material that covers the inside and is also very soft to protect your goodies. A nice red ribbon adds a sweet touch also. Within the packaging comes:
The Headphones
Amplifier box
Manual
Assortment of Cables that aren't really
Power block for the amp. box (not shown)
Jack Connector converter for headphones (connect to iPod, etc.)
Silica Gel package
The Setup:


To use the headphones in a 5.1 format you must use the amplifier box. The amp. box connects to your sound card, etc. via the Orange, Black, and Green audio cables.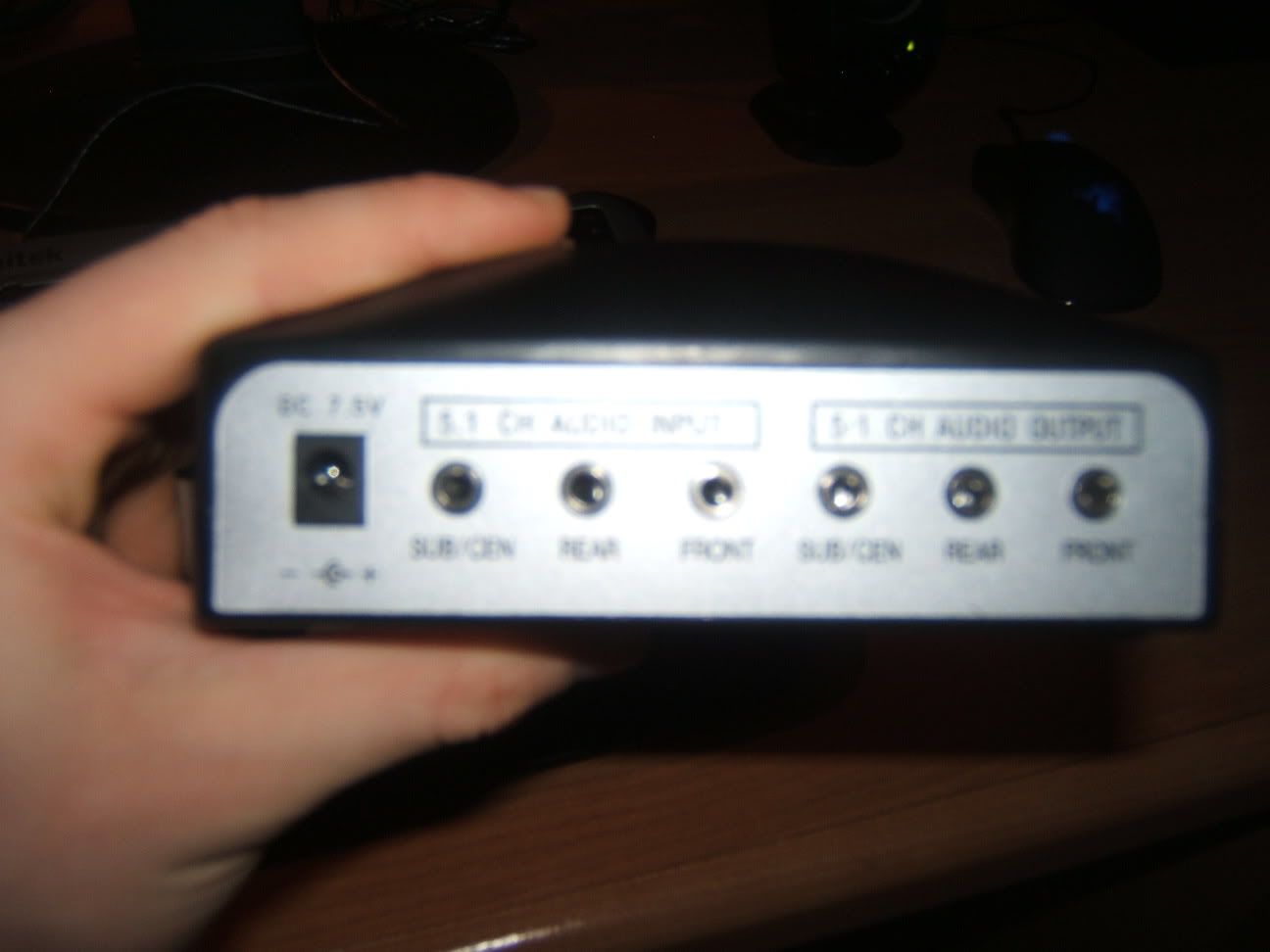 On the back of the amp. box you can kinda see the input and output audio connectors. This enables you to connect upto 5.1 speakers through the amp. box and have your headphones plugged in at the same time. The volume nob on the front of the amp. box enables you to toggle on/off with your headphones so they're not on when your using them. The inline remote also allows you to adjust volume.
Above, the headphones connect to the amp. box via special kind of jack that I'm not sure what it's called.

Performance:


With my gaming experiences with these headphones, I haven't heard any better. This are amazing, especially with the Center, Front, Rear speakers and Bass woofer in each headphone.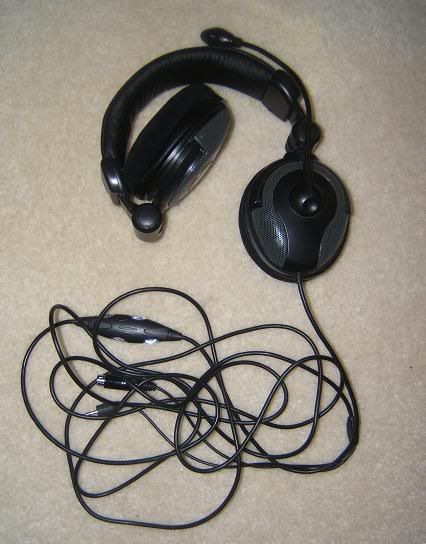 In-game, for example in

Call of Duty 4: Modern Warfare

, I can tell where the nade lands while playing Hardcore (no indicator). The sound quality is exceptional. The speakers AND the bass are crisp and clear. I am no sound technician, but these headphones have excellent response and sound quality and enables you to hear things normally not heard by the average earbud or 2.1 headphones.

Comfort and looks:

Yes, these things are bulky. They kinda look funny when they're on your head but I don't expect anyone to use these outside of the computer room because they're not practical portable headphones. Also, these are somewhat heavy and some may not like these one bit. It took me a while to get used to the heaviness of them and I occasionally take them off while gaming to give my neck a rest.

Conclusion:

Awesome sound quality and bass
Comfortable earpads and headband
Very adjustable
Long cord (10ft. or so) and its also very flexible and strong, I've run over it with my comp chair 100 times
Inline remote
5.1 Surround Sound
Collapsible
Great Packaging