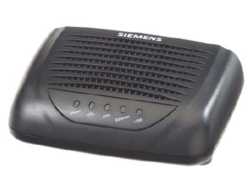 ADSL Modem-Router Siemens Over Pstn CL-110
Λήγει σε:
Η καταχώρηση έχει λήξει!
Τελική τιμή:
10,25€
Αρχική τιμή: 10,25€
Αριθμός προσφορών: 0
Τύπος καταχώρησης: ΔΗΜΟΠΡΑΣΙΑ
Τοποθεσία και αποστολή
Τοποθεσία πωλητή:
Αθήνα - Αττικής
Όροι αποστολής:
Επιβαρύνουν τον αγοραστή
Έξοδα αποστολής:
Δεν έχουν οριστεί από τον πωλητή
Τρόποι πληρωμής:
Μετριτά
Η δημοπρασία ξεκίνησε:
01/12/2007 - 13:22
Έληξε στις:
23/12/2007 - 15:22
ID:
10034514
Κατάσταση:
Μεταχειρισμένο
Περιγραφή
Apo Forthnet 2 play Sfragismeno

Detailed features:
SOFTWARE
- ADSL Compliance
ANSI T1.413 Issue 2
ITU G.992.1 Annex A (G.dmt), ITU G.992.1 Annex B (G.dmt) with UR2 compliant, ITU G.992.2 Annex A (G.lite), ITU G.994.1 (G.hs)
Support dying gasp
Maximum Rate: 8 Mbps for downstream and 1 Mbps for upstream
- ADSL2 Compliance
ITU G.992.3 Annex A and Annex B (G.dmt.bis), Maximum Rate: 12 Mbps for downstream and 1 Mbps for upstream
- ADSL2+ Compliance
ITU G.992.5 Annex A and Annex B : Maximum Rate: 24 Mbps for downstream and 1.2 Mbps for upstream
- ATM Features
Compliant to ATM Forum UNI 3.1 / 4.0 Permanent Virtual, Circuits (PVCs)
Support up to 8 PVCs for UBR, CBR, VBR-nrt, VBR-rt with traffic shaping
RFC2684 LLC Encapsulation and VC Multiplexing over AAL5
RFC2364 Point-to-Point Protocol (PPP) over ATM
RFC2225 Classical IP and ARP over ATM
RFC2516 PPP over Ethernet: support Relay (Transparent Forwarding) and Client functions
Support PPPoE, PPPoA, MER and Bridged mode
OAM F4/F5 End-to-End/Segment Loopback Cells
- Bridging Features
Supports self-learning bridge specified in IEEE 802.1d
Transparent Bridging
Supports up to 4096 learning MAC addresses
Transparent Bridging among 10/100 Mb Ethernet and USB
Support IGMP Snooping
Supports 802.1Q VLAN packet pass-through
- Routing Features
NAT (Network Address Translation) / PAT (Port Address Translation) let multiple users on the LAN to access the Internet for the cost of only one IP address.
ALGs (Application Level Gateways): such as NetMeeting, MSN Messenger, FTP, Quick Time, mIRC, Real Player, CuSeeMe, VPN pass-through with multiple sessions, RTSP, SIP, etc.
Port Forwarding: the users can setup multiple virtual servers (e.g., Web, FTP, Mail servers) on user's local network.
Support DMZ
UPnP IGD (Internet Gateway Device)
UPnP extension for NAT traversal capability
Static routes, RFC1058 RIPv1, and RFC1723 RIPv2
DNS Relay, Dynamic DNS, DHCP Client/Relay/Server
Time protocol can be used to get current time from network time server.
Support IGMP Proxy
Support IP/Bridge QoS for prioritize the transmission of different traffic classes
Support 802.1Q VLAN Tagging
- Security Features PAP (RFC1334), CHAP (RFC1994), and MS-CHAP/MSCHAP2 for PPP session
Firewall support IP packets filtering based on IP address/Port number/Protocol type Support DoS (Deny of Services) which detect & protect a number of attacks (such as SYN/FIN/RST Flood, Smurf, WinNuke, Echo Scan, Xmas Tree Scan, etc)
- Configuration and Management
User-friendly embedded web configuration interface with password protection in English or German
Remote management access control
Telnet session for local or remote management
Firmware upgrades through HTTP, TFTP
Configuration file backup and restore
Support TR-069

HARDWARE
- Interface
One RJ-11 port for ADSL connection
One RJ-45 port for IEEE 802.3/802.3u 10/100 Base-T
auto-sensing and auto-crossover Ethernet connection
One USB client port compliant to USB 1.1
One hidden button for restoration of factory default settings
- Regulatory Approvals and Compliance EMC: FCC part 15 Class B, CE, Telecom: FCC part 68
Safety: UL, CB, LVD
- Power Requirement and Operation Environment Requirement
Power Adaptor: Input 230±10 VAC; Output 9VAC, 1A, Power Consumption: less than 10 Watt
Ambient Temperature: 0 to 40°C (32 to 96°F), Relative Humidity: 20% to 90% (non-condensing)
- Physical Front Panel: 5 leds
Dimensions 125 mm (L) x 90 mm (W) x 35 mm (H)
Weight: 155 g
ΠΕΡΙΛΑΜΒΑΝΟΝΤΑΙ ΟΔΗΓΙΕΣ ΕΓΚΑΤΑΣΤΑΣΗΣ
ΤΟ ΜΟΝΤΕΜ ΕΙΝΑΙ ΣΦΡΑΓΙΣΜΕΝΟ ΚΑΙ ΣΕ ΠΕΡΙΠΤΩΣΗ ΠΟΥ ΔΕΝ ΛΕΙΤΟΥΡΓΕΙ ΘΑ ΓΙΝΕΙ Η ΑΝΤΙΚΑΤΑΣΤΑΣΗ ΤΟΥ ΑΠΟ ΤΗΝ FORTHNET ΜΕ ΠΡΩΤΟΒΟΥΛΙΑ ΤΟΥ ΑΓΟΡΑΣΤΗ.